SINAEX
50 years solving machining project requirements from the initial design right up to the final piece, with the highest quality and the best prices.
Sinaex is a group of Navarre-based metal companies specialising in the integral development of machining projects and high quality tools. We have over 6,200 m² of production area, distributed into 4 production centres, with 80 metal-mechanic sector professionals that adapt solutions to the needs of each client.
National and international companies from the most varied sectors have already placed their trust in us, thanks to:
Our comprehensive services adapted to each client.
Our quality and precision in the final product.
The flexibility and speed of our work.
Our highly competitive market prices.
Do you want to get to know us?
SERVICES
"With a wide range of services we help transform your machining project into a piece tailor-made for you".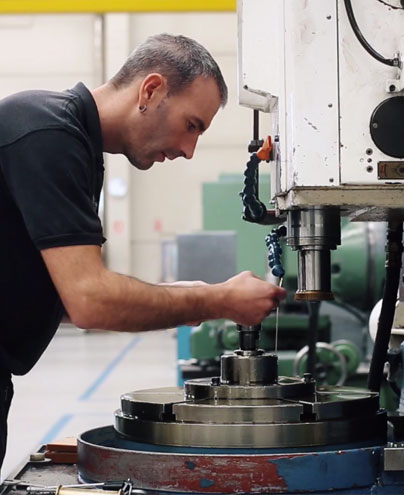 The aim of our company is
to understand our clients' needs. To do this, we study each project with them, striving towards constant improvement, from the initial consultation to the final production phase. We provide our experience and techniques for each request, adapting them to each case, customising the different services and looking for turnkey solutions.
Armed with the client order, we proceed to manufacture the pieces and tools required for each project. We offer high precision for single-unit pieces and prototypes, and we facilitate the contracting of all kinds of treatments needed to manufacture and machine the pieces.
"Precision machining requires working with the latest generation machinery to achieve the best quality
SINAEX has over 6.200m², distributed into funf production centres, with over 80 metal-mechanic sector specialised professionals, that work with the latest generation machinery to offer the highest precision machining and to perform verification processes that guarantee quality.
"Over 50 years transforming our clients' needs into reality"
Our half-a-century of experience has enabled us to work with very diverse sectors. Many national and international clients at the forefront of their sectors have already entrusted us with their projects, to make them become a reality at the very best price and with the highest quality.
We work for:
Aeronautical sector.
Automotive sector.
Renewable energies.
Agricultural sector.
Mechanics sector.
Railway sector.
Tool machinery.
Paper industry.
Agro-food machinery.
Bar turning.
Metal and tool machining.
Clinical material sector.
General machinery manufacturers.